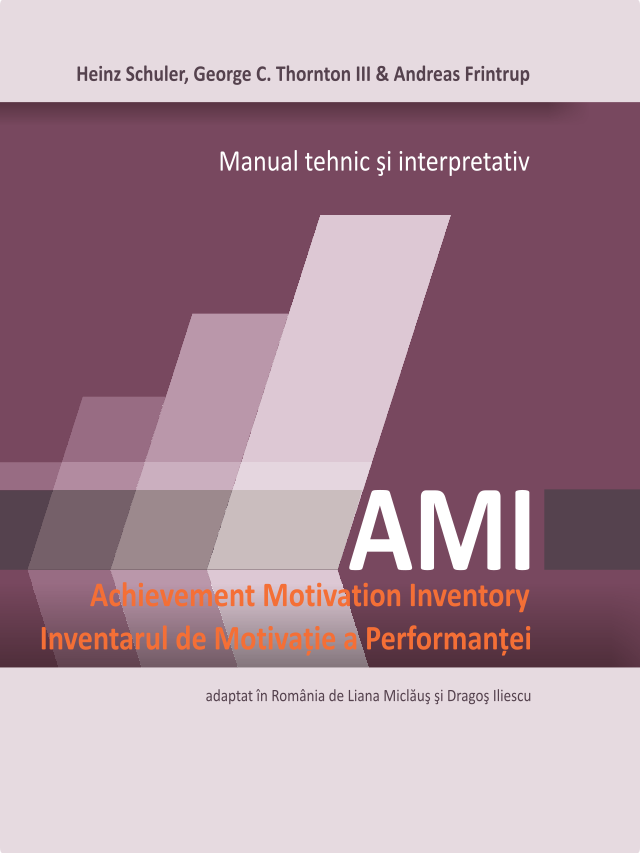 Achievement Motivation Inventory este o procedură de diagnosticare cu o aplicabilitate foarte largă, cuprinzând o serie de dimensiuni care, în mod convențional, nu îi sunt atribuite constructului de motivație pentru performanță.
Teorii ale motivației
Motivatia care sta la baza performantei umane este considerata, în multe domenii ale vietii cotidiene, ca fiind un concept care poate explica diferentele individuale de comportament.
În scoala, sport si, nu în ultimul rând, în cadrul profesiei, motivatia performantei dicteaza felul în care oamenii functionaza. Stiinta s-a dedicat, si ea, într-o masura foarte mare acestei pârghii principale a comportamentului, rezultatul fiind un numar deosebit de mare de cercetari empirice, care au ca obiect aspecte si contexte aplicative diverse ale motivatiei performantei: dezvoltarea motivatiei, începând cu frageda copilarie, evolutia de-a lungul întregii vieti, efectele sale asupra rezultatelor si performantei în diferite domenii ale vietii etc. Lucrari teoretice importante se concentreaza asupra dezvoltarii si progresului continuu al modelelor teoretice din domeniul motivatiei, asupra stabilitatii si variabilitatii resorturilor motivationale, asupra gradului în care acestea sunt masurabile, asupra legaturilor lor cu alte variabile psihologice etc.
Datorita multitudinii de cunostinte acumulate în acest domeniu este dificil chiar si pentru specialistii preocupati de multa vreme de aceasta tema, sa pastreze o privire de ansamblu asupra ei. Cu atât mai surprinzator este faptul ca evolutia metodelor de masurare a motivatiei a ramas mult în urma teoriei si ca, pâna astazi, în spatiul german nu exista nici o procedura de diagnosticare pentru masurarea diferentiata a motivatiei performantei în profesie, care sa satisfaca atât cerintele teoretice, cât si standardele psihometrice chiar daca motivatia performantei tine de caracteristicile si de orientarile care joaca un rol foarte important în toate contextele profesionale. Acesta este punctul de plecare care a parut sa justifice eforturile depuse pentru dezvoltarea acestei noi metode de investigare psihometrica.
Dezvoltarea inventarului de motivatie a performantei (Leistungsmotivationsinventar, LMI în versiunea germana sau Achievement Motivation Inventory, AMI, în versiunea americana) a plecat de la o serie mai larga de lucrari proprii de diagnosticare a aptitudinilor, ancorate în context aplicativ, dar si de la activitatea practica tipica pentru psihologia diferentiala, care este mai puternic orientata spre domeniul cercetarilor fundamentale.
În conditiile ambelor perspective mentionate, noul test si-a stabilit un obiectiv din a face posibila întelegerea corecta a constructului motivatiei pentru obtinerea unor performante superioare, sau, pe scurt, a motivatiei performantei, definit în sens larg. Prin conceptia care sta la baza scalelor, precum si prin formularea tuturor itemilor, s-a dorit, de aceea, obtinerea unei relevante profesionale distinctive, urmarindu-se, însa, în acelasi timp, ca scalele sa nu fie limitate la aria profesionala. S-a urmarit, mai degraba, ca procedura sa fie aplicabila în toate domeniile vietii în care poate fi experimentata o aspiratie spre performanta si în care efectul acesteia poate fi observat.
În consecinta, AMI este o procedura de diagnosticare cu o aplicabilitate foarte larga, cuprinzând o serie de dimensiuni care, în mod conventional, nu îi sunt atribuite constructului de motivatie pentru performanta. Posibilitatea de a calcula un scor global sau, dimpotriva, de a utiliza interpretari diferentiale ale fatetelor conceptului, permite fiecarui utilizator sa decida singur daca urmeaza conceptia noastra sau se limiteaza la acele aspecte care, în conceptia sa, tin de întelegerea mai stricta a caracteristicii.
AMI contine un numar de 17 scale si un indice motivational global:
BE - Perseverenta (Beharrlichkeit, Persistance)
DO - Dominanta (Dominanz, Dominance)
EN - Angajamentul (Engagement, Engagement)
EZ - Siguranta succesului (Erfolgszuversicht, Confidence in Success)
FX - Flexibilitatea (Flexibilität, Flexibility)
FL - Absorbirea (Flow, Flow)
FU - Neînfricarea (Furchtlosingkeit, Fearlessness)
IN - Internalitatea (Internalität, Internality)
KA - Efortul compensator (Kompensatorische Anstrengung, Compensatory Effort)
LS - Mândria perfomantei (Leistungsstolz, Pride in Productivity)
LB - Dorinta de învatare (Lernbereitschaft, Eagerness to Learn)
SP - Preferinta pentru dificultate (Schwierigkeitspräferenz, Preference for Difficult Tasks)
SE - Independenta (Selbstständigkeit, Independence)
SK - Autocontrolul si autodisciplina (Selbstkontrolle, Self-Control)
ST - Orientarea spre status (Statusorientierung, Status Orientation)
WE - Orientarea spre competitie (Wettbewerbsorientierung, Competitiveness)
ZS - Fixarea scopului (Zielsetzung, Goal Setting)
AMI este în lucru în România din anul 2005. Traducerea a fost realizata printr-o procedura de traducere si retroversiune de Liana Miclaus si Horia Pitariu în 2005. Culegerea datelor pentru adaptare si validare a început tot în 2005, cu un esantion mai degraba redus ca volum. Obiectivele avute de cercetatori la acel moment erau de doua feluri: (a) generarea unui etalon experimental, pe un esantion de studenti si un esantion de adulti angajati în munca si (b) experimentarea legaturilor între AMi si metafactorii Big Five, asa cum sunt acestia masurati de NEO-PI-R (Costa & McCrae, 1991).
În 2006 si 2007, colectarea datelor s-a concentrat asupra culegerii unui esantion normativ voluminos pentru România, precum si pe culegerea de date experimentale cu caracter validational, pentru contextul românesc.
La acest moment, esantionul normativ al AMI în România este format din N=3000 de participanti, dintre care N=1300 adulti angajati în munca si N=1700 studenti. În total, 1500 de subiecti sunt de sex feminin si 1500 de sex masculin.
Una din utilitatile principale ale AMI este în domeniul psihologiei muncii, industriale si organizationale. Multi din psihologii care activeaza în acest domeniu prefera administrarea online a chestionarelor, motiv pentru care este important sa fie colectate date si analizate posibilele diferente între administrarea creion-hârtie si administrarea online a unui chestionar. Pentru versiunea româneasca a AMI, au fost colectate online N=429. Dintre acestea, 157 (36.51%) au fost colectate prin sistemul online german, în care participantul este complet anonim, iar restul (272) prin sistemul online românesc, unde participantul trebuie sa primeasca o invitatie din partea unui psiholog autorizat si deci nu este complet anonim. Cei 115 barbati (26.74%) si cele 157 de femei (36.51%) din acest esantion online. care si-au declarat datele demografice, au vârste cuprinse între 22 si 69 ani (m=36.58, s=10.38).
Sunt de asemenea colectate esantioane speciale de manageri, sportivi, someri si elevi.
Datele rezultate din esantionul normativ românesc au fost analizate cu privire la potrivirea lor cu modelul trifactorial al AMI, enuntat de Schuler, Thornton, Frintrup & Mueller-Hanson (2004). Atât analiza factoriala exploratorie (EFA), cât si analiza factoriala confirmatoare (CFA) au rezultat în structuri foarte apropiate de cele raportate de autori. În cazul analizei confirmatorii, indicele de potrivire (Goodness of Fit Index) este doar cu putin sub pragul recomandat de .80 (GFI=.795), dar patratul aproximarilor (Root Mean Square of Approximation) se plaseaza si în România, ca si în SUA sau Germania, semnificativ sub limita recomandata de.05 (RMSEA=.129), sugerând ca modelul trifactorial ar putea di rafinat în continuare.
În România, pentru AMI au fost colectate informatii validationale în mare volum. Astfel, AMI a fost corelat pe esantioane de diferite marimi si facturi cu instrumente precum NEO-PI-R (Costa & McCrae, 1991), Scalele de Personalitate Eysenck, atât EPQ-R, cât si IVE (Eysenck & Eysenck, 1991), California Psychological Inventory, CPI-260 (Gough, 2005), FPI-R, Freiburger Persönlichkeitsinventar Revised (Fahrenberg, Hampel & Selg, 2001), SWS, Survey of Work Styles (Jackson & Gray, 1993), BarOn Emotional Intelligence Quotient (EQ-i), Multifactor Leadership Questionnaire, MLQ 5X (Avolio & Bass, 2004) etc. De asemenea, AMI a fost administrat în procedura de heteroevaluare împreuna cu BFA (Big Five Adjectives, Caprara, Barbanelli & Steca, 2002), rezultând corelatii adjectivale importante pentru detalierea semnificatiilor scalelor în context românesc. În plus, AMI a fost corelat în vederea validarii cu o multitudine de criterii demografice si comportamentale, în special de natura profesionala.
Manualul AMI este un manual integral romanesc, semnat de Liana Miclaus si Dragos Iliescu. Este un manual tehnic si interpretativ, de peste 150 de pagini, care trateaza atat aspecte tehnice, cat si aspecte interpretative, legate de interpretarea profilurilor AMI.
Manualul nu este disponibil decat pentru utilizatorii cu licenta, achizitia lui este obligatorie la achizita primei licente pentru un psiholog, ca parte a "Starter Kit"-ului.
Dragos Iliescu este doctor în psihologie si conferentiar universitar în cadrul SNSPA Bucuresti. Interesele sale graviteaza în jurul cercetarii aplicate si a psihodiagnosticului, cu trimitere spre sfera psihologiei organizationale, dar si spre cea a psihologiei consumatorului si reclamei. Este managing partner in Testcentral.
Liliana Miclaus a absolvit in anul 2006 Facultatea de Psihologie a UBB Cluj si este masterand in management organizational si resurse umane. Este implicata in proiecte de psihologie organizationala in domeniul bibliotecilor universitare. De asemenea este psihoterapeut cognitiv-comportamental.