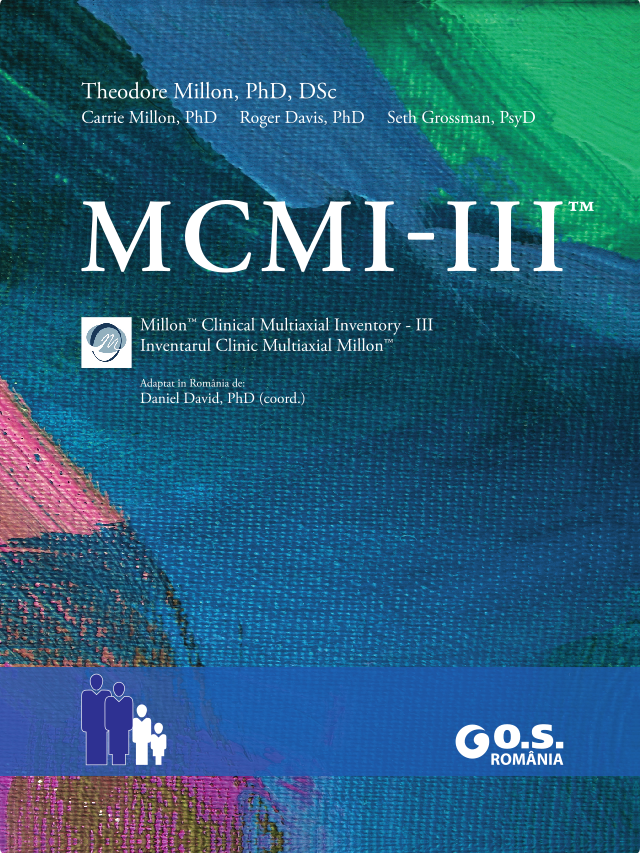 Ce este MCMI®-III?
MCMI®-III este un instrument clinic axat pe evaluarea psihopatologică a personalității, fiind compatibil cu DSM-IV. MCMI®-III a fost creat de Dr. Theodore Millon, pornind de la propria teorie a personalității și se bazează pe mai mult de 30 de ani de cercetări. Până în prezent au fost publicate mai mult de 600 de studii știintifice care au utilizat MCMI într-o modalitate semnificativă.
Inventarul MCMI-III este destinat adulților (cel puțin 18 ani) și necesită un nivel de înțelegere a cuvântului scris corespunzător clasei a opta, fiind disponibile forme specifice pentru alte categorii mai reduse de vârstă. Este dezvoltat și standardizat pe populația clinică (de exemplu, pacienți din spitalele de psihiatrie și pacienți cu tulburări psihiatrice existente), iar chestionarul este format din 175 de itemi, iar majoritatea respondenților termină completarea în 25-30 de minute. Astfel, MCMI-III ajută la obținerea unei cantități maxime de informații cu un efort minim din partea respondenților/pacienților.

Pentru mai multe detalii, consultă secțiunile Scale și Caracteristici pe pagina testului.
---
Cui se adresează și pentru ce este recomandat MCMI®-III?
MCMI®-III oferă o evaluare validată empiric, relevantă și fidelă, pentru a veni în sprijinul psihologilor și al altor specialiști în domeniul sănătății mintale în mediul clinic, medical, judiciar etc. MCMI-III este ideal pentru uzul persoanelor care sunt evaluate pentru dificultăți emoționale, comportamenttale și interpersonale.
Instrumentul ajută la (1) evaluarea interacțiunii tulburărilor de Axa I și de Axa II pe baza sistemului de clasificare DSM-IV, la (2) identificarea caracteristicilor profunde și pervazive de personalitate care stau la baza simptomelor pacientului și la (3) o înțelegere integrată a relației dintre caracteristicile de personalitate și sindroamele clinice, pentru a facilita deciziile de tratament.

---
Care sunt particularitățile MCMI®-III?

ACREDITAREA CPR. MCMI®-III este recomandat de Colegiul Psihologilor din România și a primit în 2020 avizul pe o perioadă nedeterminată pentru utilizarea cu precădere în psihologie clinică.
COMPATIBILITATEA DSM-IV. Un aspect important al MCMI®-III este faptul ca scalele sale sunt analoage celor din DSM la un număr de niveluri. În primul rând, scalele sunt grupate în categorii de personalitate și psihopatologie, pentru a reflecta distincția între Axa I și Axa II a DSM. Astfel, scale diferite fac distincția între caracteristici mai durabile ale pacienților (Axa II) și tulburări clinice mai acute pe care le manifestă (Axa I). Profilurile bazate pe toate scalele pot fi interpretate pentru a înțelege influența reciprocă între patternuri de personalitate durabile și simptome manifestate curent.

CONCIZIE ȘI STRUCTURĂ. MCMI®-III se deosebește de alte inventare în special prin concizia sa, fundamentarea sa teoretica, formatul multiaxial, construcția tripartită și schema de validare, utilizarea scorurilor BR și profunzimea interpretativă. S-a încercat, la fiecare ediție a inventarului, să se pastreze un număr al itemilor destul de redus încât să încurajeze utilizarea sa în toate mediile de diagnostic și tratament, și totuși destul de extins încât să permită evaluarea unei game largi de comportamente multiaxiale clinice relevante. Cu cei 175 de itemi ai săi, MCMI-III este mult mai scurt decât alte instrumente comparabile.
Scalele MCMI®-III
I. MCMI-III conține paisprezece scale de patologie de personalitate, adică:
A. Unsprezece Patternuri de personalitate:

Schizoid
Evitant
Depresiv
Dependent
Histrionic
Narcisist
Antisocial
Sadic (agresiv)
Compulsiv
Negativist (pasiv-agresiv)
Masochist (ego-distonic)
B. Trei scale de Patologie severa de personalitate:
Schizotipal
Borderline
Paranoid
---
II. și zece sindroame clinice, adică:

A. Șapte Sindroame clinice moderate:
Anxietate
Somatoform
Bipolar: maniacal
Distimie
Dependența de alcool
Dependența de droguri
Tulburarea de stres post-traumatic
B. Trei Sindroame clinice severe:
Tulburarea de gândire,
Depresia majoră,
Tulburarea delirantă.
---
III. Trei Indici de modificare, meniți să evalueze stilul de răspuns al persoanei evaluate:
Dezvăluire
Dezirabilitate
Devalorizare
---
IV. Testul mai oferă și un indicator al răspunsurilor la întâmplare: Validitate
---
V. Scalele de fațetă Grossman
De asemenea, se pot calcula si scorurile la 42 de Scale fațetă Grossman, pornind de la scalele referitoare la Patternurile de personalitate și cele privitoare la Patologia severă de personalitate. Acestea identifică procesele de personalitate care se află la baza creșterii scorurilor și ajută la personalizarea viitoarei psihoterapii. Scalele și scalele fațetă corespunzătoare sunt:
Scala Schizoid: Dispoziție apatică, Neimplicat din punct de vedere social, Indiferent expresiv;
Scala Evitant: Relații interpersonale de evitare, Imagine de sine înstrăinată, Reprezentări contrariante;
Scala Depresiv: Temperament melancolic, Imagine de sine - lipsit de valoare, Cognitiv pesimist;
Scala Dependent: Imagine de sine nepotrivit, Relații interpersonale submisive, Reprezentări imature;
Scala Histrionic: Imagine de sine - sociabil, Relații interpersonale - căutator de atenție, Expresiv dramatic;
Scala Narcisist: Imagine de sine - admirabil, Cognitiv expansiv, Relații interpersonale de exploatare;
Scala Antisocial: Expresiv impulsiv, Mecanism exprimare gestuala și verbala, Relații interpersonale iresponsabile;
Scala Sadic (agresiv): Dispoziție ostilă, Organizare eruptivă, Reprezentari - dăunatoare;
Scala Compulsiv: Cognitiv rigid, Relații interpersonale respectuoase, Imagine de sine - conștiincios;
Scala Negativist (pasiv-agresiv): Dispoziție iritabilă, Expresiv plin de resentimente, Imagine de sine - nemulțumit;
Scala Masochist (ego-distonic): Reprezentări compromise, Cognitiv modest, Imagine de sine - nemeritat;
Scala Schizotipal: Imagine de sine înstrăinată, Cognitiv autist, Reprezentări haotice;
Scala Borderline: Dispoziție labilă, Relații interpersonale paradoxale, Imagine de sine - nesigură;
Scala Paranoid: Cognitiv suspicios, Expresiv defensiv, Mecanism de proiecție.
| | |
| --- | --- |
| Abreviere | MCMI-III |
| Data publicării | 2010 |
| Populația vizată | adulți |
| Forma de administrare | Individuală, Autoevaluare |
| Vârsta | peste 18 ani |
| Volumul eșantionului | 250 |
| Calificarea necesară | C |
| Durată | 25-30 de minute |
| Tipul itemilor | itemi cu răspuns Adevărat-Fals |
| Numărul itemilor | 175 itemi |
| Adrese utile | Psihopatologie Teste pentru specializarea clinică |
Eșantionul normativ românesc
Esantionul normativ MCMI-III românesc a avut un volum total de N=216 de persoane. Cei mai multi dintre respondenti s-au încadrat în categoria de vârsta 26-45 ani (N=100, 46.30% din esantion), iar cei mai putini în categoria de vârsta > 65 ani (N=4, 1.85% din esantion). Din punctul de vedere al genului, un numar de N=129 sunt barbati (59.72% din esantion), iar N=87 sunt femei (50.28% din esantion). Un procent de 37.6 % din participanti se aflau sub tratament psihoterapeutic în momentul evaluarii, iar 62.4 % din participanti se aflau sub tratament medicamentos în momentul evaluarii.
Culegerea datelor s-a desfasurat între iunie 2008 si ianuarie 2009. Esantionul este reprezentativ pentru populatia cu vârsta cuprinsa între 18 si 65 ani, cu patologie clinica, neinstitutionalizata si institutionalizata. Evaluarile s-au desfasurat în clinici si spitale.
MCMI-III dispune de etaloane pe gen. Etaloanele sunt prezentate sub forma unor scoruri base rate (BR). Scorurile T, de exemplu, care prezinta o medie de 50, o abatere standard de 10 si o distributie a scorurilor similare pentru toate scalele inventarului, poate masca orice diferenta ce ar putea exista între prevalenta în realitate a atributelor masurate de inventar. Spre deosebire de scorurile T, scorurile BR reflecta prevalenta relativa în esantionul normativ a caracteristicilor pe care le masoara.
Manualul românesc MCMI-III
Manualul românesc este o traducere si adaptare dupa manualul original american. Contine 287 de pagini si capitole referitoare la: validitatea teoretica MCMI-III, validitatea structural-interna, validitatea în raport cu criteriile externe, un capitol dedicat Scalelor fateta Grossman, precum si capitole referitoare la administrare si scorare, interpretare si aplicabilitate.
Manualul este însotit de o brosura de adaptare a instrumentului pentru populatia româneasca, care prezinta rezultatele studiilor efectuate asupra esantionului normativ românesc referitoare la fidelitatea si validitatea MCMI-III, precum si etaloanele românesti (în scoruri BR).
Manualul nu este disponibil decât pentru utilizatorii cu licenta, achizitia lui este obligatorie la achizitia primei licente pentru un psiholog.
Despre coordonatorul manualului românesc MCMI-III
Daniel David este profesor "Aaron T. Beck" de psihologie clinica si psihoterapie (stiinte cognitive clinice) la Universitatea Babes-Bolyai din Cluj-Napoca, Seful Catedrei de Psihologie Clinica si Psihoterapie din Universitatea Babes-Bolyai, presedintele International Institute for the Advanced Studies of Psychotherapy and Applied Mental Health, al Colegiului Psihologilor din România, filiala Cluj si al Asociatiei de Psihoterapii Cognitive si Comportamentale din România. Daniel David preda si la prestigioasa institutie medicala Mount Sinai School of Medicine, New-York, SUA.