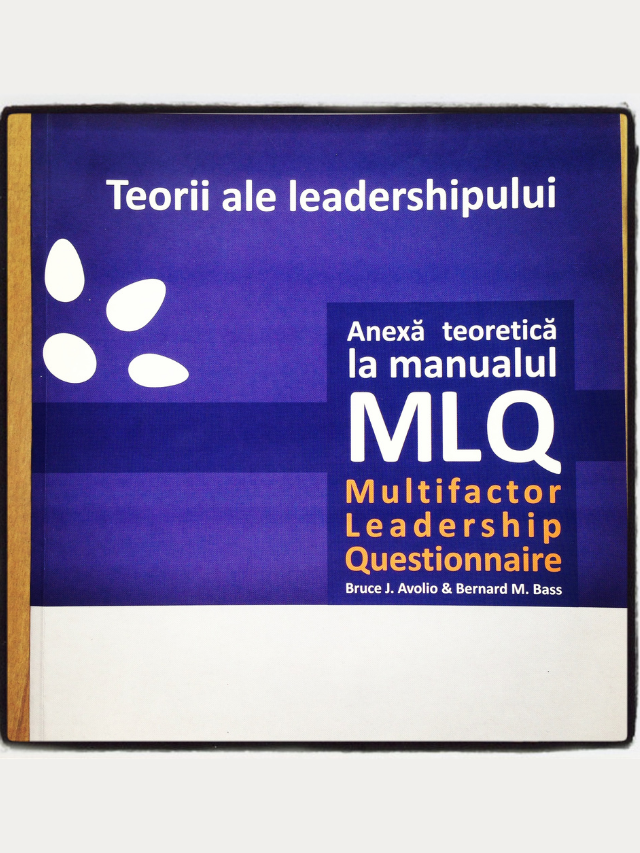 Leadership theories - MLQ Supplement (Avolio, Bass)
Supliment teoretic al manualului MLQ (Avolio, Bass)
O resursă inestimabilă a celor care sunt interesați de parcursul științific al cercetărilor în domeniul leadershipului
-
-
Bernard M. Bass, Ph.D.

Bernard M. Bass, Ph.D., este Distins Profesor de Management în cadrul State University of New York at Binghampton, unde este si director al Centrului pentru Studii în Leadership. Anterior a mai ocupat pozitia de director al Centrului de Cercetare în Management la Universitatea Pittsburgh (1965-68) si la Universitatea Rochester (1969-72). A fost de asemenea presedinte a Diviziei de Psihologie Organizationala a Asociatiei Internationale de Psihologie Aplicata (1978-82). În cursul activitatii sale de o viata a scris peste 300 de carti si articole stiintifice. Bernard Bass este probabil cea mai prestigioasa personalitate în viata în domeniul studiilor de leadership.
Bruce J. Avolio, Ph.D.

Bruce J. Avolio, Ph.D., este titularul catedrei Clifton, în leadership, din cadrul Universitatii din Nebraska-Lincoln (UNL), Colegiul pentru Administrarea Afacerilor. El este de asemenea directorul Institutului Gallup pentru Leadership, co-director al programului de MBA/MA în leadership executiv de la UNL si director al programului doctoral în leadership, de la UNL. Înainte de a se alatura UNL, Bruce Avolio a fost co-director al Centrului pentru Studii în Leadership de la State University of New York at Binghamton.

Bruce Avolio are o reputatie internationala exceptionala ca cercetator in domeniul leadershipului si este membru in comitetele editoriale a patru reviste stintifice de cel mai mare prestigiu: Academy of Management Journal, Journal of Applied Psychology, Journal of Organizational Behavior and Leadership Quarterly. A fost consultant pentru organizatii publice si private din America de Nord si de Sud, Africa, Europa si Asia de Sud-Est, dar si în Australia, Noua Zeelanda si Israel. A fost de asemenea consultant pentru fortele armate din SUA, Singapore, Suedia, Finlanda, Israel si Africa de Sud.

Bruce Avolio a publicat cinci volume si mai mult de 100 de articole în probleme de leadership. Cartile sale includ Transformational and Charismatic Leadership: The Road Ahead (Elsevier Science, 2002), Full Leadership Development: Building the Vital Forces in Organizations (Sage Publications, 1999), and Developing Potential Across a Full Range of Leadership: Cases on Transactional and Transformational Leadership (Lawrence Erlbaum Associates, 2000). His newest books are Leadership Development in Balance: Made/Born (Lawrence Erlbaum Associates, 2005) si Authentic Leadership Development: Moments Matter (McGraw-Hill, 2005).
-